When it comes to awesome Christmas gifts for kids, I try to combine education and fun. I firmly believe parents should begin teaching their children about finances at an early age.
This way kids have a positive view about money and feel confident managing it as they go through their teen years.



So what's the best way to get kids interested in learning about money? PRESENTS ha ha ha but seriously, here are our top 10 picks for this upcoming holiday season!
Consider Also: What's the Average Christmas Budget? Spend Less This Holiday Season
This site participates in the Amazon Services LLC Associates Program, as well as other affiliate programs, which allows us to earn a commission if you make a purchase through one of our links.
10 Awesome Christmas Gifts for Kids
1. Fisher-Price Laugh & Learn Count & Rumble Piggy Bank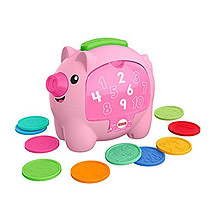 This piggy bank is great for babies and toddlers and the fact that it counts as your little one places the colorful plastic coins in the bank makes it an excellent buy.
Kids can press the nose of the pig to hear different sounds and phrases that will introduce them to the concept of counting and saving money.
I actually had one of Fisher-Price's earlier piggy bank models for my daughters when they were young.
They loved the toy and it was also great for developing hand-eye coordination, as they had to place the coin the correct way to send it down inside the bank.
2. Stephen Joseph Kids' Wallet
When you're ready to start giving your child an allowance, a wallet is the perfect present. Stephen Joseph has a line of wallets that are appealing to kids ages 3 to 11.
You can choose a shark, bear, ballet slipper, bee, rocket ship, horse, dinosaur or construction cover.
The wallet is a tri-fold design and has room for dollar bills, coins, library cards and notes.
Parents report that the wallets hold up well, so your child will be able to use it for several years before upgrading to a more mature wallet.
3. Learning Resources Pretend & Play Calculator Cash Register, Pretend Play Cash Register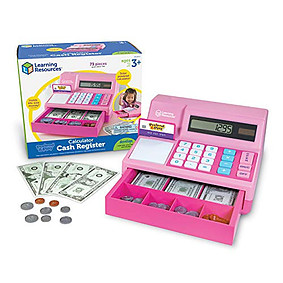 This Pretend and Play Cash Register makes practicing math skills much more fun, plus kids begin to see how they will use their math skills in everyday life.
Since the set is solar powered, you won't even need to worry about buying batteries.
Included with the cash register are 30 pretend bills, 40 plastic coins, a pretend credit card, and an activity guide.
You can order it in pink, red or with an extra set of play money. It's recommended for children as young as 3, but I think it's best for ages 5 through 10.
4. Money Bags Coin Value Game by Learning Resources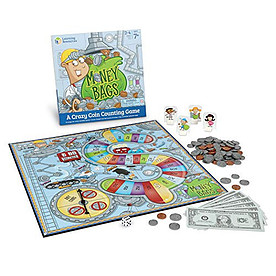 Money Bags is a great game that can be used in a classroom, homeschool group or during family game night at home. The game requires students to count, collect, and exchange money.
Along the way, kids learn the value of a dollar, as the player in the end with the most money in their hands wins the game.
You can certainly introduce this game to preschoolers, but I'd suggest using it with kids in elementary school to reinforce the counting and money concepts that are being taught in the classroom.
I love how colorful the board is, but even more so how realistic the money appears.

When my sister and I were young, my dad helped us collect pennies and other coins from around the globe. I still have my collection to this day!
Not only is coin collecting a great way to learn about money, it can be a chance for a child and parent to bond.



This Coin Collecting Kit for Kids takes kids on a tour of a mint, teaches them about the history of money, and provides pages with slots to keep their coins.
It's quite colorful and I'd recommend it for kids in Kindergarten through Sixth Grade as one of the most awesome Christmas gifts for kids.
6. KidKraft Colorful Wooden Grocery Store Marketplace Toy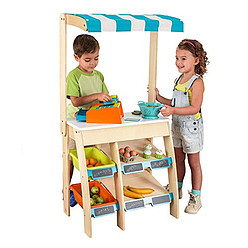 If you're looking to develop an entrepreneurial spirit in your kids, you'll love this grocery store marketplace toy.
It's safe for kids as young as 3 and encourages imaginative play, while also teaching the economics of buying and selling goods.
The stand comes with a cash register that opens and closes, plenty of space to display fruits and vegetables for sale and chalk boards to list prices and specials.
One parent reported that her children used the stand for everything from putting on puppet shows to selling baked goods, so the possibilities are endless!
7. 2021 Upgraded-ATM Savings Piggy Bank Machine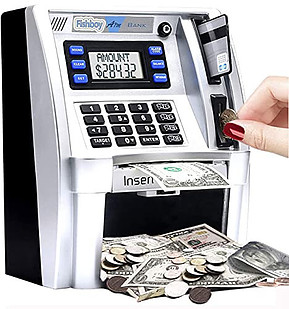 Older kids will want to upgrade to this revised electronic ATM savings bank machine. It works just like a real ATM. Kids insert their debit card and enter their PIN.
They can then choose to deposit money (the machine accepts both bills and coins), review their balance, or withdrawal money to make a purchase.
Kids quickly learn that you can't get money out of an ATM if you don't first save and put money in, which is an important life lesson.
The toy lights up and makes sounds like a real machine, so it's great practice before your child turns into a teen and has access to his or her bank account.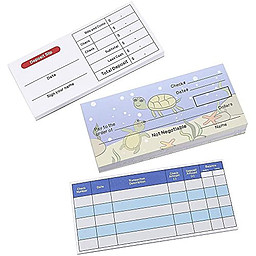 Most schools don't teach financial literacy, which is why this play check set is such a great idea.
You can start kids off with a pretend balance and help them learn how to write checks, make banking deposits, and keep a check register. The set of checks comes in five different sea creature designs.
Once kids reach teenage years and have their own jobs and pay their own cell phone bills or car insurance, they'll be fully prepared to keep track of their finances and live within their means.
9. Money Ninja: A Children's Book About Saving, Investing, and Donating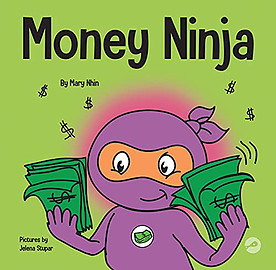 This book is designed for kids ages 3 to 11 and it's appealing to children because it's written and illustrated like a comic book.
You can read this book to your young ones before bed or when you have time to chat about the different concepts found in the book.
What I love is that kids will be able to see the difference in two characters – one who saves and one who constantly spends.
This will open their eyes to the value of saving, something that is important to learn early on.
10. Learning Resources Money Activity Set, 102 Pieces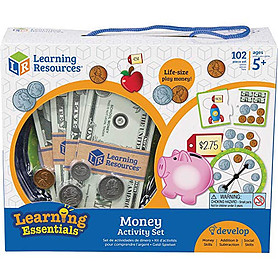 What sets this kit apart from others is that it comes with money puzzles.
For example, kids will see a cash register with a price tag on one price and they will need to fit it with a second piece that shows the dollars and cents that make up the amount on the price tag.
The set includes realistic dollars and cents that can be used alone or with the pretend cash register or pretend grocery store marketplace cart.
There are a total of 102 pieces in the set, which is affordably priced when you consider everything you get in the activity set.
Happy Shopping!
Consider Also:
Top 10 Good Christmas Gifts for Teen Boys That Encourage Financial Independence