Technology has come a long way since I first started budgeting. Now there are a host of budgeting apps you can use in place of, or alongside the budgeting method of your choosing. Today, we'll discover what is the best budgeting app for your specific needs.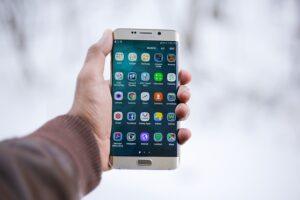 Best Budgeting App
Here are our top picks for best budgeting app.
EveryDollar
I'm a Certified Ramsey Solutions Master Financial Coach, which means I'm a little partial to EveryDollar. You can use it on your laptop, as well as on your phone if you prefer to download the app.
With the free version, you manually enter your income and expenses and track your spending. If you need to link your bank account, you'll have to upgrade to the Plus version, which costs $129.99 per year.
What I like about this app is its simplicity. It's easy to use and won't overwhelm newbies.
You Need a Budget (YNAB)
YNAB isn't free, but they do offer a 34-day free trial. I love free trials because it gives you a chance to determine if this method of budgeting fits your personality.
After the free trial, the cost is $84 per year, or you can choose the $11.99 per month option.
YNAB is a bit more complicated than EveryDollar, so it may not be the best choice for those who are new to budgeting. YNAB does, however, leave you feeling like you are in control of your money.
This is because YNAB focuses on thinking forward, instead of looking back. The app does recognize credit cards and you can use it on your laptop, phone or tablet.
Mint
Mint is 100% free, although you may have to deal with a few annoying ads. Just like the other apps mentioned above, you can use Mint on any device, including your phone.
The app isn't as simple as EveryDollar, but it does so much more. It might be a better choice for those who are more advanced.
I recommend starting with EveryDollar if you are a beginner, and then moving up to one of the other apps as you become more comfortable with budgeting.
With Mint, you can create a budget, set up alerts for when bills are due and check your credit. As an added bonus, Mint also has portfolio and investment tracking tools
Mvelopes
New users can try Mvelopes free for one month. There are three subscription options after that.
Basic: $6 per month
Premier: $10 per month
Plus: $20 per month
If you're more prone to the envelope method of budgeting, you'll do well with Mvelopes.
This digital version comes with account syncing, account balance monitoring, interactive reports, live chat support and even weekly webinars.
Upgrades include a personal finance trainer to review your budget on a quarterly basis and offer advice.
Honeyfi
Honeyfi is specifically designed for couples. You won't be able to use Honeyfi on your laptop, but you can download the app to your phone or tablet.
In addition to creating a household budget, couples can make specific savings categories, such as saving for a wedding. The money can be stored in Honeyfi Goals, which is FDIC insured.
Both parties can link their accounts to the app, including investment accounts with ease. What I like most about Honeyfi is that transactions can be tagged and commented on.
That means if you see an Amazon purchase you don't recognize, you can tag your partner, who can then respond with a comment explaining the purchase.
Honeyfi is free for 30 days and then $60 per year thereafter.
Consider Reading:
Monthly Budget Planner Worksheet – Why You Need to Start Budgeting Today
Budgeting for a Family of Seven in 2022: Tips and Tricks to Stretch Those Dollars
So What is the Best Budgeting App?
You really can't go wrong with any of the above budgeting apps. I suggest giving a few of them a try, so you can get a feel of what format you like best.
If you hate the program, you won't want to spend the time tracking and planning the best use of your money. Please don't give up if you try one of the apps and it doesn't work for you.
They each operate a little differently, so while some people may love the way one app operates, others may prefer a different app.
You have to find the budgeting app that interests and inspires you. For example, when my daughter was young and in second grade, I home schooled her.
She resisted the math book I was using. I knew she loved animals and found a different math curriculum that followed a beaver and his contractor.
She excelled with the book with the beaver, even though the first book taught the exact same concepts.
Life would have been miserable had I tried to force her to use the book she didn't like.
To succeed with your finances, you need to have a solid budget. So try each of these apps to determine which one works best for you.