When you're ready to start investing, it's important that you keep track of your trades. There are several reasons to do this, including keeping accurate records and reviewing and analyzing your trades.
Today, we'll review our "Trading Logbook for Beginners," which is available for sale on Amazon.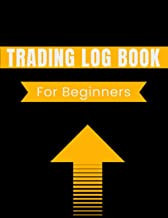 Stock Market Trading is Now Beginner-Friendly
Stock market trading is no longer reserved for professionals and institutional investors.
Thanks to the Internet and online brokerages, more individuals than ever before are learning how to make their own investments.
And in recent years, online brokerages such as Robinhood.com have changed the landscape by offering commission-free trades.
With over 13 million accounts, Robinhood has successfully become the trading platform for those new to trading stocks, due to it's ease of use.
In addition, traditional investment instruments such as bank savings accounts and certificates of deposit (CDs) are currently barely paying enough interest to keep up with inflation, let alone pay for the cost of gasoline in your car to drive to the bank to make a deposit!
Taking Time to Learn is Important
To be profitable at individual trading, it is vitally important to be dedicated to spending time studying about the stock market, and to learn how to use the many tools available today, such as how to read charts and apply technical analysis.
There are plenty of excellent online sources for learning more about how the stock market works, including our YouTube channel: Five Bags of Gold
Check out our videos, which may be more helpful for visual learners.
Consider Reading:
What Is A Stock Portfolio And How Does It Work?
How to Find Undervalued Stocks for Your Stock Portfolio
What Stocks Pay Dividends: How to Build Wealth Through Dividend Stocks
Begin by Paper Trading
Starting out by "paper trading" is highly recommended, before risking any cash, as you learn about trading.
Learning from your mistakes as well as your successful trades will also go a long way to helping you gain first-hand knowledge.
To do this, I recommend keeping a trading log book for both paper trades and live trades.
The "Trading Log Book for Beginners: Stock Trading Activities Book" provides an excellent template for tracking your trades.
By recording your transactions and then later reviewing them, you can discover a lot.
This paperback book has 144 pages for tracking your trades. Transactions are recorded horizontally across two pages.
Column headings include ticker symbol, number of shares purchased, the price, the date acquired, the date sold, the price you sell it for, your cost (for commissions), the gain/loss, the percent return on investment (RIO), the source of where you got the idea for this trade (your own research, a "guru" newsletter or a stock screener) and most important a column for notes.
Stock Trading Logbook Bonus Pages
As a bonus, pages are included to track a watch list of stocks. Column headings include a buy zone and target price.
A section marked "Paper Trades" for specifically tracking paper trades helps keep them separate from live trade transactions.
I suggest using a book marker so you can quickly turn to this section of the log book.
In Conclusion: Stock Trading Logbook Review
Successful trading requires study and review of your trades. Starting with paper trades, professionals suggest trading often.
You can't read a book on swimming and know how to swim. You've got to get in the water and practice many times to become proficient.
The "Trading Log Book for Beginners" is the perfect journal for not only beginners, but seasoned traders as well.
Check out our other Stock Trading Logbooks that are available on Amazon: