No one likes to think about the possibility of dying, but it is a reality for every person. Here at Five Bags of Gold, we are all about making that time easier on the ones we love. One way to do that is with a peace of mind planner.
Today, we are going to review our "Peace of Mind Planner: A Family Household Information Guide," which is currently for sale on Amazon.com.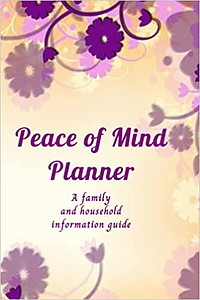 What Happens After Death?
When you pass away, your family is left to deal with all of your affairs, and they have to do this while grieving.
Family members will need to locate your will, bank accounts, insurance policies and more.
This will be difficult if you haven't organized everything and let your family know where they could find the information.
That's where our "Peace of Mind Planner" comes in. This end of life planning workbook is easy to use and comes with 50 fill-in-the-blank pages.
Everything your family needs to know can be compiled together in this one book.
Consider Also: Monthly Budget Planner Worksheet – Why You Need to Start Budgeting Today
What's in the Peace of Mind Planner?
Inside the workbook, you'll find the following pages:
A personalized note
Online accounts and passwords
Financial accounts and information
Where is it?
A list of where documents are stored
Special information
Timely notes
Business contacts
Family and friends contacts
Birthdays
Funeral directives
Final wishes
Special instructions on pets
Home services
Subscriptions Notes
We put a lot of thought and research into creating this planner.
We think this Peace of Mind Planner is quite comprehensive and does an excellent job of allowing the user to record all of the important information one would need to know in the event of a person's passing.
Your relatives won't have to hunt for your bank accounts and try to guess the passwords for your online accounts. They'll know who to notify of your passing, as well as how you'd like your pets to be cared for.
They will know which subscriptions you have that need to be canceled and which home services you use, which is important info whether they are going to inhabit the home or sell it.
The personalized notes sections allows you to leave messages for the individuals in your life who mean the most to you!
What's Not in the Peace of Mind Planner?
It's important to note that this planner does not take the place of your Last Will and Testament or your final Healthcare Directives.
It is not a legally-binding document. What the planner does do, is provide a "Where is It?" page for you to let your relatives know where your Will and final Healthcare Directives are located.
Always seek advice from an Elder Law Attorney where your Will and Final Wishes are concerned! Here at Five Bags of Gold, we firmly believe every individual should have a Will drawn up.
You never want to leave your affairs up to the state.
What Do You Do Once the Workbook is Filled Out?
Once the workbook is completely filled out, you need to let several family members know where it is. What we actually recommend is that you purchase a few "Peace of Mind Planners."
When I created my will, I gave a copy to my father, daughter and first cousin. They won't have to hunt for it because they will know exactly where they put it.
You'll want to do the same with this workbook. Fill out two or three copies, so that you can keep one and give the others to the people in your life who will be taking care of your affairs.
Then, they won't have to search for it and they'll know exactly what needs to be done.
In Conclusion: Peace of Mind Planner
Anytime you plan for the future, you can't go wrong. You make things easier for yourself and the ones you love.
This "Peace of Mind Planner" is super affordable at just $7.99 and ships quickly, since it qualifies for Amazon Prime.
It even has an attractive floral cover and comes with a bonus page that offers Personal Security Tips for your protection!