Let's talk about how to save money on a road trip using just ten easy methods. If you are just starting your planning and are wondering how to save money for a road trip, then read on.
There are a myriad of ways to keep your adventure within a reasonable budget and still experience the places you're visiting to the fullest.
How to Save Money on a Road Trip: Our Top 10 Tips
A good place to start when looking for savings on your road trip is to make a list of the expenses themselves. It would be good to prioritize them so you can designate a reasonable budget for each category.
1. Gas Savings
First, you will need gas. Because gas is the thing you'll need the most it is important to research the many gas rewards available to consumers at no cost to them.
There are gas rewards cards, such as Circle K, that offer an Easy Pay price when linking your rewards card to your bank account.
Harris Teeter has fuel points that you earn when you grocery shop in their stores.
Each hundred dollars you make in purchases in the same calendar month, earns ten cents off at the pump at their gas stations for the next month.
*Note: They have sister gas stations where you can use your points as well, it doesn't have to be a Harris Teeter gas station.
There are also gas apps that allow you to track where the cheapest gas stations are in your location. GasBuddy and Gas Guru are two that are very popular.
Check out our article: Looking for a Gas App That Pays You Money?
In addition to gas apps, you'll want to watch your gas mileage.
Ways to get the best gas mileage:
Eliminate lag by removing bike racks, cargo carriers, or rooftop storage.
Remember to use cruise control on long stretches of highways.
Check tire pressure regularly to make sure it is the recommended psi which can be found in the car manual.
Avoid using the air conditioning as it will kill your gas mileage.
Once you've reached destinations, remember to utilize public transportation when you can.
From subways to buses to trolley cars, public transportation is still available in many cities and is priced cheaply.
2. Accommodations Savings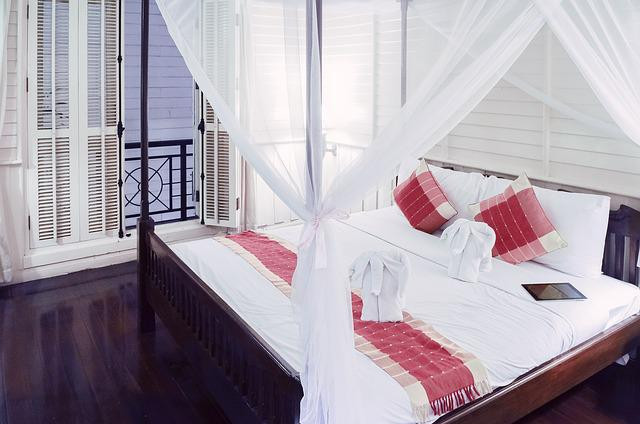 Accommodations are the next necessity. Whether you're looking for hotels along the way or whole houses, there are ways to save money on a road trip accommodation.
Booking.com, Hotels.com, or Travelocity all offer hotel rooms at a discounted price.
In addition, if you like a particular brand of hotels such as Marriott or Hilton, it would be advantageous to sign up for their loyalty programs.
Most major chain hotels will offer a free night after several nights purchased.
Tip: Remember to book through the hotel's website if looking to earn free nights through their loyalty programs.
When booking through a third party such as Expedia or Hotels.com you may not accrue points. And booking ahead will save money most of the time.
If hotels are still out of budget for you, turn to Airbnb or VRBO. Sometimes you'll find they charge less per night than a hotel.
In some ritzy cities airbnb's and VRBO's are becoming a luxury so it may not always work out to be cheaper than a hotel room so just be sure to compare prices.
Be sure to include all fees from cleaning charges to service charges and taxes when seeing which options will be cheapest.
If all these options are still not within reach for your budget, consider getting a used camping tent and plan on setting up camp at free campsites around the country.
3. Food Savings
You will most definitely need to eat. It'll come as no surprise that the cheapest way to eat on a road trip is to grocery shop rather than eat out.
Check out our article: How to Eat on 30 a Week in 2022
Consider keeping a cooler in the car for refrigerated items and just restock on ice when grocery shopping. Pantry items are easy and affordable to keep on hand.
If you will be hiking or walking through the city, pack sandwiches and pretzels before you head out.
Try to avoid buying plastic water bottles. Not only will the cost add up, but the plastic is not good for you to continuously drink out of.
Get an insulated water bottle before you start your trip and fill it up at reliable water sources. If you do stop for a coffee or food at a drive through, many times they'll give you a cup of tap water for free if you ask.
Use some of the ice in the cooler to keep your water cool and refreshing.
Remember the Harris Teeter gas rewards depend on your grocery bill so if you're choosing to use that gas reward, try to shop at Harris Teeter for groceries.
4. Parking for Attractions
Many attractions that you want to visit will charge for parking. Try to avoid this by using an app or website that shows you where the free parking is located.
Usually counties will have free parking spots for their local visitors so keep an eye out for small pockets of free parking.
For example, the beaches on North Topsail Beach in North Carolina have city-owned parking lots that charge for parking and they have county parking lots that are free.
If you absolutely cannot find a free parking lot, try using Parkopedia or Park Me Parking that does the shopping for you.
Through these sites you can price compare and see the locations of the parking lots so you know how walkable the area is from the parking lot.
5. Check Your List Twice
Making a list of things you'll need will prevent having to buy things on the trip.
Some things that are very important are phone chargers, toiletries, and utensils (think wrapped disposable forks and spoons).
The idea is to make sure you have the basics and not overload on unnecessary things.
Check out our Road Trip Games Book to keep your kids entertained in the car: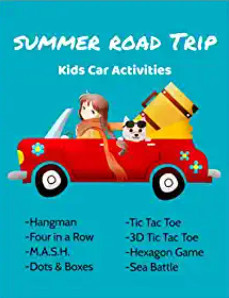 6. Give Your Vehicle A Checkup
Get an oil change and have your car looked-over before you get on the road.
Typically with an oil change, you'll get a top off on all your fluids, a tire pressure check, and the mechanic may even check your windshield washer blades for you.
Also be sure to have a spare tire in case of a flat, this can help avoid a steep towing fee.
You most certainly do not want to break down at any point of your road trip because you failed to do routine maintenance.
Towing costs and repair costs will be much more expensive than a routine checkup on your car.
7. Stay Organized
When you plan ahead and map out your route, try to stick to that route.
It'll be tempting to stop at other attractions that you may hear about from others or see on the map, but those out-of-the-way places will cost you money in gas and time.
Staying organized applies to more than just your mapped out attractions list. Be sure to pack in a way that allows for accessibility.
If you need your phone for GPS, be sure to have your car phone charger handy. If you will need utensils for eating on the road, keep them handy in your purse or glove compartment.
Being organized will ultimately save you from overspending.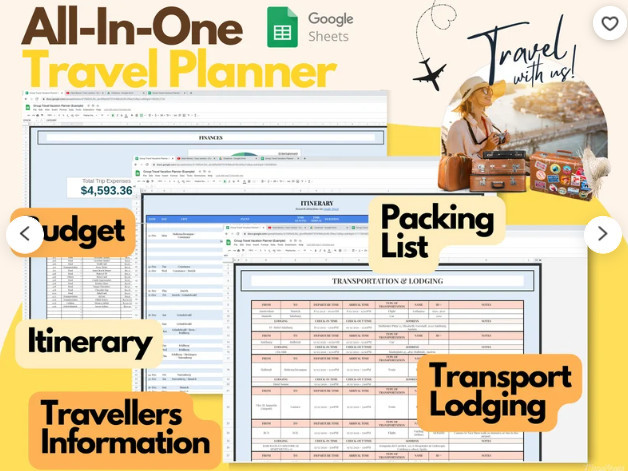 How to Save Money on a Road Trip? Get this All-in-One Travel Planner
8. Use Google Maps
Google Maps is an amazing tool for road tripping. Beyond just directions, this app will help you avoid costly and timely construction zones.
In addition you can use the settings in the app to direct you around toll roads and bridges.
Just remember to do the math on the distance around the tolls and make sure you are actually saving money when considering the cost of gas.
If you need help calculating fuel costs, the site fueleconomy.gov is a good place to look.
9. Purchase Tickets In Advance
If you are planning on visiting museums and other costly attractions, it might be a good idea to book your tickets in advance.
Many times when you book online on their website, you'll see different ways to save. If you are a member of different organizations, you'll be allotted a ten percent discount in some places.
Booking in advance can also save you time. You won't risk an attraction being all sold out when you arrive.
And some places have a designated entrance for those who have pre-purchased tickets, saving even more time.
10. Make a Budget
Although it may be tough to gauge, it is imperative that you make a budget for your road trip. Using the fuel economy website, you can get a rough estimate of gas costs.
You can use your weekly grocery budget as your gauge for your food budget. And when looking for attractions to visit, look on the websites to add up admission fees.
Look into the cost of accommodations in the different areas you think you'll stop to get an idea of that category budget.
In addition, try to set aside some money for souvenirs so you have some fun things to remember your trip.
Once the budget is made, stick to it. This will keep you from overspending and having regrets when you get home.
If it makes it easier to use the paper envelope method, do that. You don't want to run out of money on a road trip and spend the rest of your year paying it off.
We actually have a Budget Planner for sale on Amazon that you may find helpful.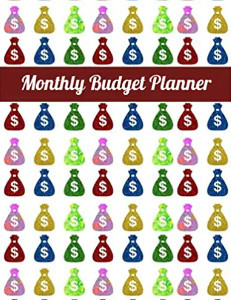 In Conclusion: How to Save Money for a Road Trip
When you begin the budgeting for your road trip, it will make it clearer how to save money.
A visual of how much you will need for each category can help you organize your paychecks accordingly.
You want to take the total amount of money needed and divide it by the number of months until the road trip. This will give you the amount you need to save each month.
If you feel as if it isn't achievable with your paycheck, you can think about picking up overtime for a few weeks or maybe find a side job.
Check out our video:
A few other ways to boost your savings are: turn your hobby into a money-maker, host a couple yard sales, or babysit or tutor on the weekends for extra cash.
All these ideas can fuel a substantial budget for an adventurous road trip.