When you hear the phrase, 'double your money' most people automatically think of gambling gigs, but there are many other ways to double your money in 2022 then a risky race track or poker game.
It might seem daunting to research and trust where you can double your money, but in this article you'll find some serious, helpful research already done for you.
Let's take a look at how people are putting their money to work for them in 2022.
How to Identify Scams Before Investing
Before you put your money anywhere, it is important to understand that there are scams out there. Many fraudulent individuals use similar tactics so it's important to note the different ways they'll push you into investing.
There are five main ways that frauds will try to get you to invest:
The "Phantom Riches Tactic" and it offers empty promises such as a high dollar return in a short period of time.
The "Source Credibility Tactic" which will tell you all about fancy credentials they hold or ties to big investment firms when in reality, they don't have two legs to stand on.
The "Social Consensus Tactic" in which the fraud will list relatives and friends who have invested and seen phenomenal results.
The "Reciprocity Tactic" that offers one discount for another in return if you invest before their tight deadline, often specified as 'now'.
The "Scarcity Tactic" that pushes you hard to invest now because there is a limited availability of the particular investment.
If you encounter any of these pushy tactics during a consultation, it is smart to walk away from the investment or at least get a second or third opinion from a trusted source before investing.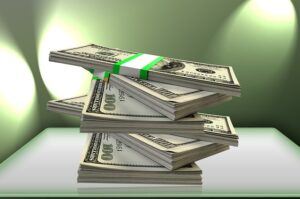 Top Five Ways to Double Your Money
Now that you know how to stay clear of scams, let's check out some of the best ways to double your money in 2022.
In some cases, investing is one of the easiest things an individual can do to boost their income or retirement.
Other times, deciding where and when to put your money is extremely time consuming and involves quite a bit of research.
Decide whether you want to invest time or money and that will determine where you put your money.
1.  Employer Matched Benefits
Under the Social Security Act of 1935, Congress had opened the door for the older generation to phase out of the workforce and into retirement, says WorkPlace Consultants.
Although some businesses offered pensions prior to the SSA, not many small businesses could afford it and so the social security system was put in place for those who didn't have those opportunities.
However, as businesses grew and competition increased among employers, companies started offering incentives such as retirement plans.
These plans include but are not limited to 401(k)'s, Roth IRA's, and IRA's. They are the easiest investment plans because the employee does all the work to establish the accounts. Additionally, they offer a great return on your money.
For matching benefits, an employer will offer to contribute the same dollar amount that you contribute up to a certain percent of your income.
For example, if you want to contribute 2% of your income, your employee might offer a plan where they contribute the same 2% into your account.
In this case, the employer would match 100% of 2% for their employees. It is entirely up to the employer to decide how much they will match but at 100% matching of 2%, you are doubling your money through your employer benefit program.
In some instances, a company might say they'll match 50% of your contributions. This means that they will put half of what you put into the account.
At this rate, it is still significantly higher than most investments you'll find in the stock market or CDs or bonds.
If your employer offers any type of matching retirement fund like this, it is the smartest and safest investment to enroll in and it's advisable to participate as soon as you can.
2. Compound Interest Offers Quick Returns
The way compound interest works is when your initial amount of money accrues interest and the total balance each term, including the earned interest added in, then earns interest again.
So if you were to deposit a $100 in a compound interest account that yields 5% after a year, the account would end the year with $105 and then the following year it would earn 5% on the ending amount of $105 giving you a total of $110.25 at the end of the second year.
Typically you will see double the return on your money after approximately 8-10 years, depending on the interest rate and amount of money in the account.
3. Purchasing Investments During Market Crashes
One additional safe way to invest is to purchase stocks when the market experiences a serious dip. The cost will be significantly less to buy more stocks in big brand companies.
Let your money sit in the investments for a good length of time and you could be looking at serious returns on your money when the market goes high again.
This is potentially the most time consuming, safe investing option. You will want to look into which stocks are low and by how much and then gauge how likely it is to come back strong in the future.
4. Stock Options
An additional avenue for safe investments are stock options or bonds. Typically stock options will have a higher return than bonds.
Stock options are bought from the S&P 500 which is composed of the top grossing 500 businesses in the country. It doesn't require as much research to buy stock options because the companies are almost guaranteed to bring in profits.
Be prepared to pay more for stock options than you would a single stock in the market.
Consider Reading:
Understanding Broken Wing Butterfly Options Trading
5. Bonds
With a bond, you don't have to worry so much about changes in the market since bonds are secured by the government, however you'll wait several years for your money to double depending on how much you have to invest and the interest rates.
As with most investments with interest rates, the more money you invest the quicker your money will double.
What is the Safest Way to Double Your Money?
Whenever looking for a safe investment, you should consider whether it is government-backed or not.
Bonds and certificates of deposit (CDs) are your safest way to double your money because they are insured by the government so you won't lose money.
The biggest downside is the wait time on these types of investments, so they might be best for retirement.
How Quickly Can You Double Your Money?
One great way to quickly double your money in 2022 is through real estate. There are several ways to approach this quick return.
You can fix and flip, rent out a room, buy a short-term rental (think vacation home by beach or mountains), or invest in commercial properties.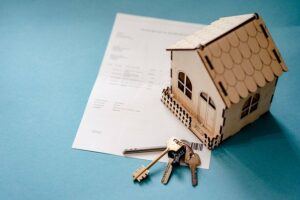 1. Fix and Flip
In order to double your money on a fix and flip, you'll want to research the demographics of the area first. If you think you want to hold on to the property and flip it into a rental, make sure the area has a demand for rentals.
If you want to flip it to sell it, look at comps and don't overspend on the flip. Multi-families will be the most ideal way to double your money in a fix and flip situation.
This type of investment will typically give you a return on your money in just a few months depending on how much work needs to go into the property.
Consider Reading:
Investing in Property for Beginners: Tips and Tricks to Get You Started
2. Rent a Room
This approach to doubling your money can work with both your primary residence or a rental property. If you already own your home and find yourself with an extra room, rent it out for some quick and reliable cash.
If you have a rental house, rent out the bedrooms to individuals instead of the entire house to one family.
This option might work best if you're near a college campus. In most cases, this is the quickest (usually within a few days or a month) and easiest way to double your money.
3. Short-Term Rental
If you have a good amount of money to invest, buying a short-term rental property could give you a return on your money within just a few months.
How much you have to invest, in combination with the area, will really determine how quickly you can double your money in this situation.
A vacation house near the ocean might cost $500k but will give you double your monthly mortgage costs if rented out by the week for a premium price.
For this type of investment you might want to talk to locals or fellow property investors in the area you want to buy in order to gauge the market.
4. Property Investment
In most cases, property investment is usually for someone with a substantial amount of money to invest. It involves investing in contractors who want to develop neighborhoods or apartment buildings.
You invest in their projects and once they are finished and rented you get a return on your money. The time in which you'll see a return on your money depends entirely on the contractors in this situation.
They will usually try to work quickly since they only get paid after certain phases of building are completed.
As with all transactions in real estate, it is wise to always research and compare before investing. Although it might seem daunting to get into real estate investment, it works out phenomenally well for a quick return on your money.
What is the Best Way to Double My Money Quickly?
After listing ways above to double your money, you can see some of the best ways to make it happen quickly. The two best ways to double money quickly are real estate and employer-matched investments.
Buying real estate usually gives you a return either immediately (if renting out a room in your home) or within a couple of months.
Enrolling in an employer-based program such as a 401k also doubles your money with each paycheck, however you typically can't touch that money until retirement.
Depending on whether you want your money now or later, will determine where you put your investment money.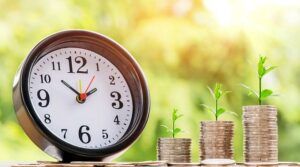 How to Double Your Money the Safe and Smart Way?
The safest and smartest way to double your money will vary for individuals depending on quantity of money and time investment.
It is tougher to double your money for instant gratification than long-term investments. However, there are ways to double your money safely and smartly in 2022 that don't require years of waiting or large sums of money.
For retirement purposes, the safest and smartest way to double your money is an employer-based investment account. These accounts offer matching contributions of the money you contribute, immediately on pay day.
The catch is that you can't touch the money, without hefty tax implications, until retirement age.
In an emergency you can potentially take the money out of the account but you will have to pay a high percentage of taxes and in most cases, you'll need to pay yourself (the account) back the amount borrowed.
If you want cold hard cash in your pocket quickly, real estate is your best bet. It takes a time investment to maintain that cash flow from a real estate investment, but you will be rewarded within a month or two of investing in real estate.
If you rent out a room in your home, you'll get instant cash flow.
In Conclusion: Be Smart and Savvy
Don't let the options for investments get your head spinning. Remember to think about what you can bring to the table for your investment and what you want out of your investment.
If you have time to commit to researching real estate and you want a quick return, then that is your best bet. If a long-term investment like an employer-matched benefit that is entirely hands off for you sounds good, go for that.
Find what works for you and do your research and you will see your money doubling in no time at all.